Lawn (Re)Disturbance Laboratory
A collaboration with seeds, time, and weeds
About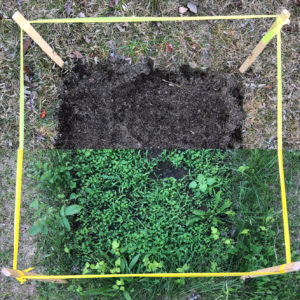 The Lawn (Re)Disturbance Laboratory is an ongoing art-science experiment now in its fourth season. A project of the NEXT EPOCH SEED LIBRARY, it involves re-wilding interventions in institutional and residential lawns from seeds lying dormant in the soil. From plant-guided sculptures and community science workshops to unconventional approaches to data collection and presentation, the project offers multiple entry points through which to consider lawn habitats and their impacts on the communities—human and nonhuman—who live in and among them.
You can read more about the project in this City Lab article: "Uncovering the Seeds of a Post-Lawn Future" and in this Media + Environment" journal article: "The Next Epoch Seed Library's Lawn Lab". You can find a short video about the project at the bottom of this page. Follow along on social media with at #lawnredisturbancelaboratory and #lawnlabgreenwood.
Scroll down for more information about current 2021 project locations, and options for getting involved!