The Next Epoch Seed Library created an installation for the exhibition The Embankment on My Mind at New Jersey City University Galleries, in November & December, 2022.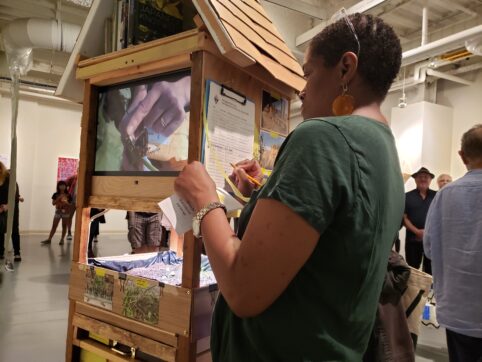 Curated by Peter Delman and Midori Yoshimoto, organized by Maureen Crowley and Katy Lyness, The Embankment On My Mind featured sixteen artists depicting local flora and fauna as well as twenty-seven artists with wide-ranging responses to the Harsimus Branch Embankment, the massive stone rail structure in Downtown Jersey City that the Embankment Coalition has been working to preserve. View catalog
NESL's library structure featured packets of seeds of weedy plants, gathered from the Embankment site, as well as from other sites we have worked with in the past. These seed packets were made available for gallery visitors to sign out. The structure also included live sprouting seeds in the gallery, a video, informational brochures and reference materials, and site photos.
Species of seeds collected from the Embankment:
Erigeron canadensis – Horseweed
Erigeron annuus – Annual Fleabane
Plantago major – Broadleaf Plantain
Taraxacum officinale – Dandelion
Lepidium virginicum – Virginia Pepperweed
Rumex crispus – Curly Dock
Capsella bursa-pastoris – Shepard's Purse
Morus alba – Mulberry
Phytolacca americana – Pokeweed
Malva neglecta – Common Mallow